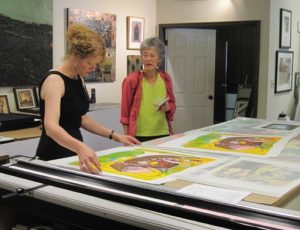 Fleckenstein Gallery and Maryland Institute (MICA) team up to present…
Collecting Art: Where to Begin?
October 7, 2017
This course is for individuals who have acquired the "art bug" and would like to learn more about art, and/or start a collection. The variety of topics include an overview of art mediums and styles; researching and approaching galleries and individual artists; framing and displaying artwork; insurance, conservation and appraisal of artwork; discovering the local art scene, arts organizations and publications. Each class will feature an art professional who will discuss their particular field, and for two extended sessions, the class will visit local art venues and artists' studios. Moderated by Lynn Marcin.